About Mabaruli Cycling Events
Mabaruli African Safaris have been one of the first Namibian Tour Operators, taking tourist on cycling tours throughout Namibia since 2009 with our Mabaruli Cycling Safaris.
When Covid-19 broke out all over the world and halted all International travelling to and from Namibia in March 2020, we kept our business going with various cycling tours and breakaways that we tailor made for the Namibian cyclist. We quickly gathered that the Namibian market longed for affordable, well-organized trips with Namibian hospitality.
To mention a few:
Several family trips to Etosha and Sossusvlei.
Three-day camp and lodge desert cycling tours
Plenty of halfway Nedbank Desert Dash training rides
Bike & rider transfers for Namibian Marathon cycle events, including setting up camp and providing meals.
Support and back up for various 4-man Nedbank Desert Dash teams.
Nedbank Desert Dash Camp village for Nedbank staff at halfway and Goanikontes.
Before we knew it, we were fully booked, and cyclist asked for more.
IN JUNE 2020 MABARULI CYCLING EVENTS & TOURS LAUNCHED THE MABARULI MTB CHALLENGE SERIES.
Exciting new long-distance races were born!!
With Mabaruli Cycling Events we host dedicated cycling events, which is passionate about encouraging all abilities of riders to experience the best cycling Namibia has to offer.
We run well organised friendly mountain bike events, with a new different vibe and pride ourselves on organizing quality events, where the rider can concentrate on enjoying their ride, while we take care of all the details and support for them AND their families – riders and non-riders.
MABARULI MTB CHALLENGE SERIES:
The 2021 addition to the series is the 4-Day Namib Challenge, that was hosted 12 - 16 May 2021.
2022 Dates: 25 - 29 MAY 2022 - Entries Open 2022
Mabaruli - Solitaire MTB Challenge
In September 2020 we hosted the first Mabaruli Solitaire MTB Challenge, a 205 km race from Windhoek to the red dunes of the south.
2021 Date: 25 September 2021 - ENTRIES ARE NOW OPEN!
2022 Date: 24 September 2021 - Entries Open 2022
Mabaruli - Schapies MTB Challenge
Followed by the Schapies MTB Challenge, in November 2020, where participants completed 229 km.
2021 Date: 30 October 2021 - ENTRIES ARE NOW OPEN!
2022 Date: 29 October 2022 - Entries Open 2022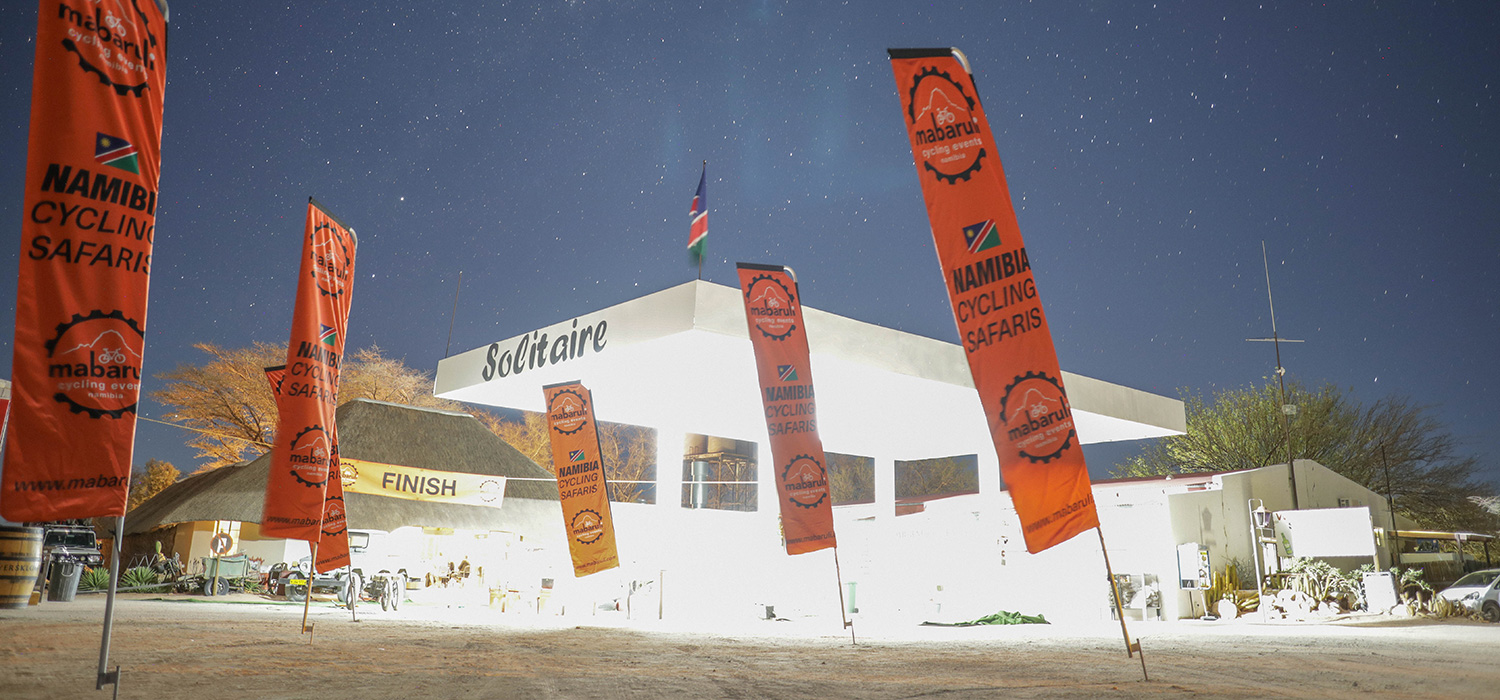 If you want to know more about Mabaruli Cycling Events, or if you are interested in working with us (either as a sponsor or an event helper), please do contact us. – sven@mabaruli.com